Aïcha, Rajae, Fatima, Houda:
Female Potters Moroccan Pre- Rif
Treasures made with the essence of life itself, the naked honesty and raw beauty of these pieces is not only a reflection of the place and culture where they are created but the most authentic expression of the enduring character of these remarkable women.
Women responsible for keeping their household together and carrying their traditions forward in both language and culture through their unique creative power. Like most of the girls from the rural Moroccan Rif, Aïcha, Fatma, Raja, and Houda learned how to work the clay through a solitary and physically demanding process, but with an end result filled with devotion and magical creation. A technique passed on from their mothers and their mothers' mothers from the earliest times that remains the same as it was thousands of years ago. The Rifian potter women live this way of life full-time with no separation between creative expression and life; they are one and the same. This creates an innate set of skills, and a unique response to the environment from a spiritual perspective having never been beholden to technology and the modern world we all inhabit. Their exquisite pottery pieces cover their essential needs, but they also express their intuitive and sacred vision of the world, and the attempt to understand and live in harmony with the elements of nature through their symbols and decorations. Our endless respect and admiration for these powerful women that continue this unique form of artistic expression despite all difficulties. Suggestions for Further Reading: BERRADA. H. La Poterie Feminine au Maroc. Publiday-Multidia, Casablanca 2001. MATOS María José- WAGNER Jorge. Cerámica Rifeña Barro Femenino. Asociación de Amigos del Museo Nacional de Cerámica 2008.
Learn more about their
extraordinary craft
A master potter for fifty years, Aicha's skills are extraordinary. She continues to use the techniques and motifs of the Sless tribe, but she also loves giving free rein to her inner artist and creating new pieces.
A force of nature, she never rests. The midwife of the village, when not making pots, she may be helping deliver a baby or building a neighbor's bread oven.
An extraordinary woman whose love for clay and life makes her the radiant, humble, and extraordinary lady that she is.
Rajae is such a gifted potter with the experience and ability needed to continue the Beni Zeroual Tribe pottery tradition. Her elegant and detailed pieces are a reflection of her patience, tested by her three children every day.
She is a tireless worker who trusts that her talents and pottery pieces will make her children's future brighter.
Fatima has dedicated her life to her fields, her livestock, and her nine children, like the majority of women from remote parts of Morocco.
She is also a true artist with a very personal approach when creating her unique pieces, a loving mother and tireless worker with the warmest smile.
Houda is one of the few young ladies from the Rif who wants to continue making pottery.
She started modeling clay when she was seven following her mother's footsteps. Her approach when creating is very delicate, and she manages to use the traditional techniques with her own experimental designs.
Her passion and determination will take her anywhere she wants.
Contact us if you are interested in acquiring their work or would like to receive a catalog dedicated exclusively to their pieces. 'Ard provides a platform for Aïcha, Rajae, Fatima, and Houda to sell their pieces, and doesn't make any profit from your purchase.
Other projects
Artisanal Immersion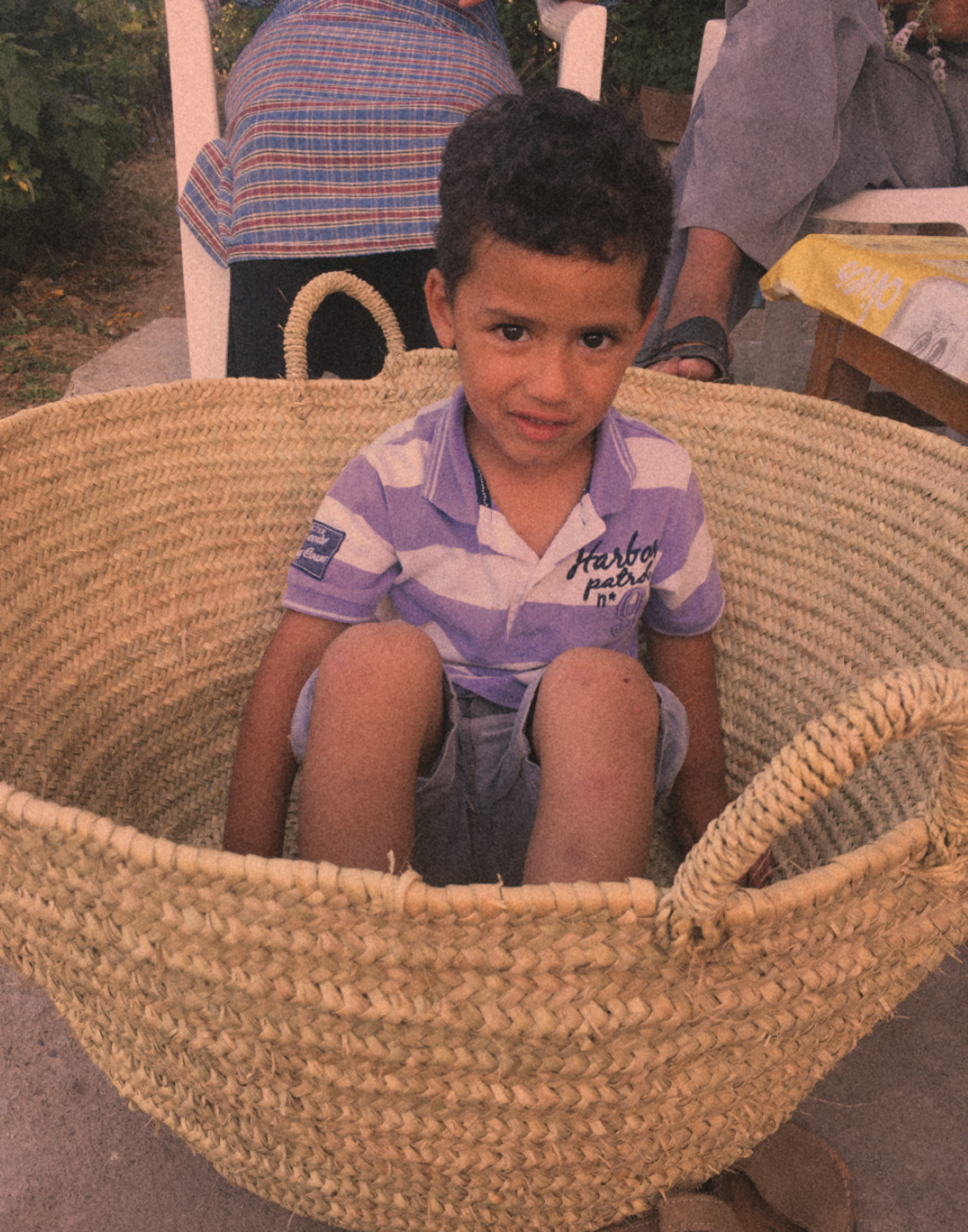 Abdul Salem Doum Basket Weaving
The local environment dictates what natural materials can be used. Weaving with natural ribbon-shaped fibers, especially the leaves of a dwarf palm tree (doum), is a centuries-old Berber tradition in Morocco that has lasted many generations. Originally performed only by men, today Moroccan women have also become experts making functional doum objects dedicated to domestic and agricultural uses that also represent an identity, meaning, and wisdom between present generations and their ancestors.